The Visual Business Plan is not just a book, but an interactive process tool that sends the student through a reflective process of cognition on all the relevant topics to consider and understand when creating a business. The process provides the student with a basic business understanding in an intuitive and playful way. The work book introduce the student to all the aspects an entrepreneur needs to take an active position on, in order to create a strong foundation for a healthy company.
From February 2021 you will be able to give your students access to a full facilitated webinar that are guiding your students through all chapters of THE VISUAL BUSINESS PLAN from home, whenever it suits into their schedule. If you want to be notified when we are launching the The Visual Business Webinar Hub please sign up in the formular.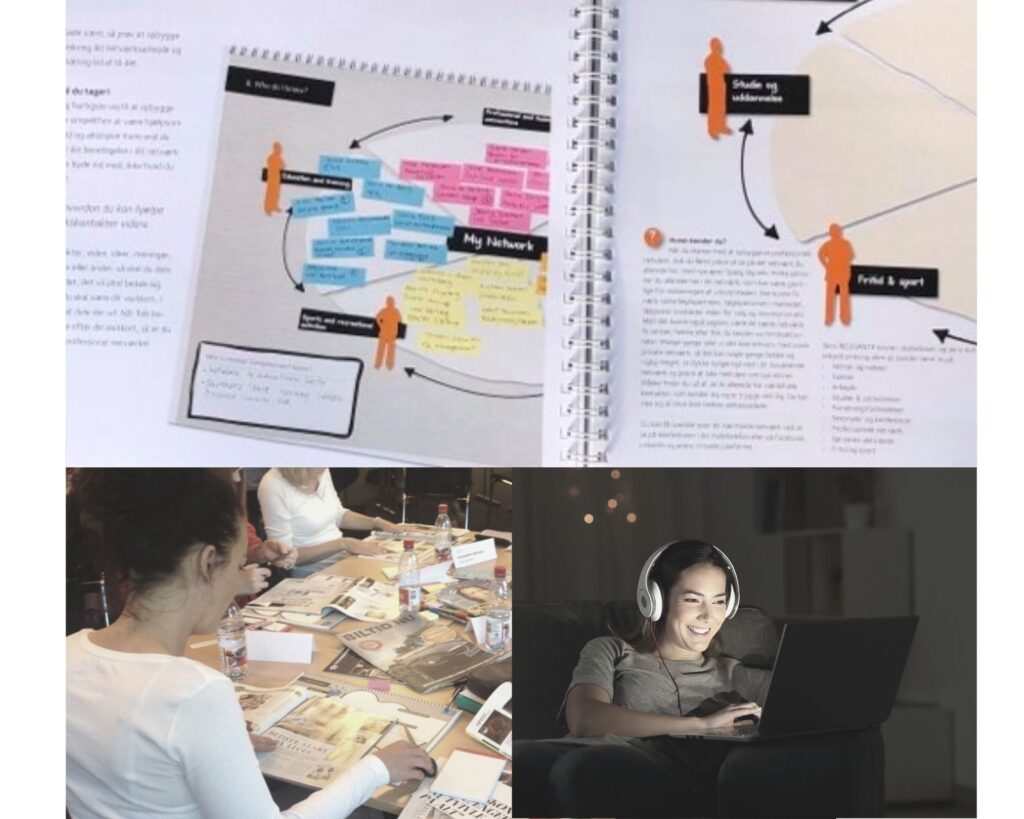 Didactic considerations
Entrepreneurship is an action-oriented discipline. The book is therefore structured in a visual and textual form based on pedagogical considerations about making it a fun, action-oriented and insightful journey to create a business plan.
The visual format is designed in a way that step by step allows the student to actively think 360 degrees around the business idea. Here we work with research, brainstorms, templates, collages and vision boards, rather than writing an academic report. The student effort is used to develop the business idea, obtain the necessary knowledge and find the best business model. As a bonus the work with the book will also develop and strengthen the student's entrepreneurial skills such as creative problem solving, perseverance, co-creation and visionary thinking.
Access to the intuitive power
Traditionally, we use the left hemisphere in educational think through our business idea and analyze through words and numbers. But entrepreneurship also requires creative and intuitive skills. This intuitive power can be accessed through our right hemisphere by working with images, colors, sound, metaphors and by using our hands. Therefor we use tools like photo safari, creating collages, drawing ideas, playful brainstorming and visual tools facilitating the learning process.